Jeffery-West Shoemakers Ale
Posted on:
09
-
Jan
-
2013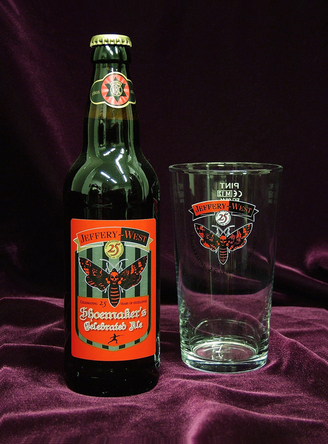 Shoemaker's Celebrated Ale
Crispin and Crispinian may well be the patron saints of shoemakers, but before the advent of mechanisation in the mid-19th century and the gradual rise from the 1920s of the idea of a weekend including time off from work on both Saturday and Sunday, shoemakers, in common with many other English craftsmen, sanctified Mondays, in the tradition of keeping Saint Monday. Although the reason behind it did not exactly stem from saintly behaviour - Monday needed to be a day of rest in order to recover from the alcohol consumed on Saturday and Sunday nights. In Northampton, the English town whose influence upon, importance and centrality to the country's footwear and leather industries can be traced back nigh on 800 years, the practice was more commonly known as, Shoemaker's Monday.
But with Monday and carousing behind them, shoemakers would work long hours, often late into the night, for the rest of the week. They dictated their own work schedule because they worked autonomously, collecting raw materials from manufacturers and then making the shoes in workshops, often in their own homes, before returning the finished products to the manufacturer in return for payment. Often they chose to work on Sundays as well, so as to have more money to spend in the pub on Sunday night.
A favourite haunt would have been The Crispin Arms, which stood in the midst of Northampton's 'cordwainers' colony', which the article from Good Words quoted above described as, 'a part of the town which is almost solely peopled by shoemakers and their purveyors'. Although whether the writer had The Crispin Arms in mind when he wrote of, 'vixenish women and beery men, in and outside of low "publics"', is not certain. What is certain is that The Crispin Arms was one of Phipps & Co's pubs, and a pint or two (…!) of Phipps, or their then rivals and neighbours, Northampton Brewery Company (NBC), was a particular favourite of the town's shoemakers.
Pickering Phipps had first started brewing beer in Northamptonshire in 1801 and in 1817 opened a brewery in the county town on Bridge Street, whilst the slightly younger NBC's history begins in 1857 when the Phillips brothers opened a brewery next door. For the next 100 years both companies prospered, seeing off competition and buying up a host of other Northampton breweries, before they merged in 1957, literally knocking through the dividing wall of their two breweries, only to then be bought up themselves by Watney in 1960. Sadly, over the next 14 years, with the 1960s/1970s rise in popularity of keg beers and lagers over traditional draught cask beers and real ales, Phipps NBC's beers and brewery were steadily run down, with their last draught beer brewed in 1968 and bottled beer in 1974.
Until now, that is! In 2004 brothers, Quentin and Alaric Neville, bought the rights to Phipps NBC. From the outset their intention for the re-launch of the company was that it should be "based on historical authenticity". Therefore they spent four years researching methods and materials, with support from a number of key former NBC Phipps employees, before launching their first revived brew, Phipps IPA in 2008, followed in 2009 by Red Star Bitter and Ratcliffe's Celebrated Stout. Earlier this year, in honour of the Queen's Diamond Jubilee, they launched Phipps Diamond Ale, and now to celebrate Jeffery~West's silver anniversary they have created Shoemaker's Celebrated Ale which, in common with all their beers, is based on an historic recipe.
Mark Jeffery and Guy West founded the gentlemen's footwear and accessories company, Jeffery~West, in Northampton twenty-five years ago this November, on 12th November 1987. Throughout the last quarter of a century, to draw upon and celebrate all the craftsmanship, quality, pedigree and experience that are available from Northampton's footwear and leather manufacturers has always been a raison d'être for the company. Building upon which, their unswerving resolve for the past 25 years has been to welt cutting edge styles to that history and tradition, to continually develop innovative new lasts, and in creating items which are always overt in their elegance and fulsome in their flamboyance, utilise an array of leathers and colours, uncommon to men's footwear.
This approach has also lead Jeffery~West to collaborate over the years with artists and companies which share their ideals to create limited edition footwear, accessories and now, for the first time, an ale. An ale that is imbued with all the characteristics and pedigree that made Phipps NBC a mainstay of the same Northampton heritage with which Jeffery~West are imbued. What made Phipps NBC's beers so popular with the shoemakers was their higher than average hop content which gave them much more of a bite, or tartness, in comparison with beers from other local breweries. As Alaric Neville explains, "a working day spent in an atmosphere steeped in tannin rich leather aroma drove men towards beers which could cut through the clag; flavour and bitterness became prised attributes in your pint mug."
Intriguingly and coincidentally, prior to their current collaboration on Shoemaker's Celebrated Ale, another link was established between the two companies when in 2008, the same year that Phipps NBC launched their revived Phipps IPA at a special event at the Sir Pickering Phipps pub in Northampton, Jeffery~West moved their head office and showroom to City House, on the town's Cliftonville Road, which had been the home that Pickering Phipps III (the great-grandson of the brewery's founder, who himself became a director of the company in 1886) built for himself. Their shop within the building is, as Guy West explains, "Pickering Phipps' old billiard room" and he likes to think that, "the old boy is still here in spirit… excusing the pun!"
Be it in a billiard room, a pub, or wherever your favourite tippling haunt may be, we heartily encourage you to celebrate 25 years of the finest footwear with Shoemaker's Celebrated Ale. We would say 'fill your boots', but with the elegant livery of the bottle complemented by a matching pint glass there's really no need to toast Jeffery~West's anniversary by drinking out of your favourite pair of their boots… not unless you really, really must! Again not wishing to be proscriptive, please remember Shoemaker's Celebrated Ale is not just for Sunday night/Monday morning, it tastes just as good on any day of the week!