The Chap Magazine - Shoes for Swinging Satanists
Posted on:
16
-
Jun
-
2015
Shoes for Swinging Satanists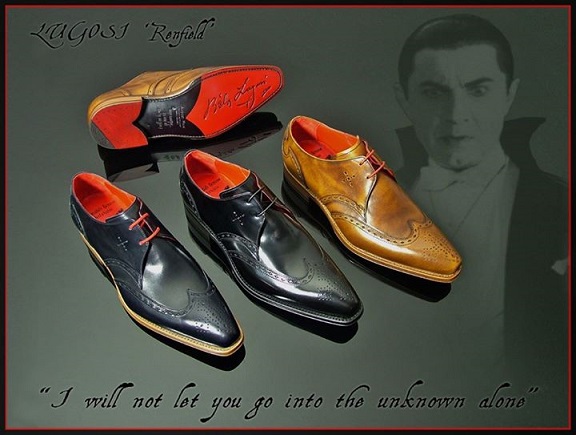 Jeffery-West is constantly introducing new and innovative lines to their range of satanic, decadent but excellently made footwear. They are one of the few new shoemakers to have successfully established themselves in Northampton, among the cream of British brands such as Church's, Cheaney and Crockett & Jones.
Jeffery-West's styles are influenced by Regency dandies, fin-de-siècle decadence, twentieth-century subculture and a whole swath of swashbucklers, wits and hell-raisers, whose names are given to their lasts: Keith Richards, Bram Stoker, Terence Stamp, Oliver Reed, Harry Flashman, Peter O'Toole, Brian Jones, Bryan Ferry, Roger Moore, Richard Burton, Richard Harris, Aleister Crowley, Beau Brummell and Sir Francis Dashwood.
The latest addition to this rogue's gallery of shoes is Bela Lugosi, whose signature embosses the leather sole of the Renfield Cross Punch Gibson (pictured). Available in Polished Tan, Black and Navy Burnish Calf.
To show the cloven hoof, is as the Dictionary of Phrase and Fable states, "to show a knavish intention" and all Jeffery-West shoes and boots bear a cleft heel, as well as red leather linings, to evoke pomp and circumstance but equally revolution, decadence and darker ritual and ceremony. Later this year, Jeffery-West will collaborate with this publication to produce a spectacular item of footwear that will embody all of the above values plus those of the The Chap and its extremely well-dressed adherents. Full details to follow in the August/September edition.