The 'Morrison' Chelsea Boot
Posted on:
01
-
Jan
-
2015
By Guy Sangster-Adams
"Hello, I love you, won't you tell me your name…"
Since their very first collection nigh on 25 years ago, each new Jeffery-West design has included a Chelsea boot sublimely reworked in their own inimitable style. Never content to stand still, for the past quarter of a century Jeffery~West have continued to develop the style, refining and redefining all that a Chelsea boot can be. A process which has led to their stunning new incarnation; a boot to which one has already professed one's love long before being introduced.
However, please allow me to introduce you. Built upon their latest last, the 'Morrison', named after the inescapably charismatic front man of The Doors and poet, Jim Morrison.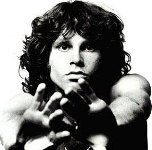 The boot rises, with a swagger befitting Mr Mojo Risin', from the red sole embossed with the word 'degenerate' in a scrolling hand, to the ever so slightly Cuban-esque heel. Underscoring that the 'Morrison' Chelsea takes its flair from the Flamenco boot, rather than the Cowboy boot.
The angle of the heel perfectly highlights the elegant curves of the jockey back strap, and the flowing lines around the burgundy gusset with diamond detail -finishing off with a fantastic sweep from the centre seam to the toe. The boot extends to an exquisite raptor's talon, from which wrenching one's gaze from would be futile. Indeed, these are the boots to make Morrison's lyrical "Queen of Angels sigh" and to which, even if she should attempt to feign to be, there is no way she would be blind.
Such is the beauty of the Jeffery~West Morrison Chelsea Boot's silhouette, one might be moved to exhibit a pair on a plinth, rather than wear them, but in wearing them one finds that the attention to detail of the design only serves to perfect the wearer's silhouette.